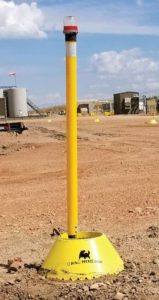 LIGHT:
LED colors: Amber, Blue, Clear, Green, Red.
LED lifespan: Up to 5 years.
Charge time: 10-12 hours.
120+ hrs run time on full charge.
Light span: 1640 feet.
Outside water-proof switch.
Meets DOT standards.
MARKER:
48" tall.
Withstands impact from any direction.
Flexible, minimizing damage caused
by permanent deadman markers.
3" white reflective strip.
Easily replaceable.
BASE:
Work-hardened high-strength steel.
Heavy seamless construction.
Standard safety yellow powder coat.
Other colors are available on request.
Serrated base for extra stability.
Large 10″ opening for guy wires to be connected
to deadman without removing guard.
Optional field-installed stainless steel tether
to deadman.
Optional installation and removal of existing
deadman guards available upon request.